Ally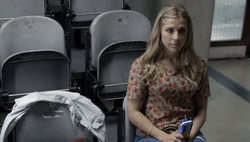 Ally is a blind girl who briefly visited the Community Centre to take sculpting classes. Ally begins to use Curtis as a model at first, yet later asks if she can swap him for another member of the gang because she is racist.
Rudy ends up becoming her new model, and the two begin to date which quickly leads to sex. Ally makes Rudy promise to use a condom, however, he has none at hand, so takes some cling film from a dog bowl and wraps it around his penis using rubber bands. He decides not to have intercourse with her due to her racist attitude, and she retaliates by revealing that she knows he is using a makeshift condom, this is because her guide dog, Barney, can telepathically communicate with her to tell her what is in the surroundings and warn her of any danger. Rudy and the others then realise it was her dog who told her Curtis was black, which led to her changing her sculpting models.
Community content is available under
CC-BY-SA
unless otherwise noted.