Amy Goodwin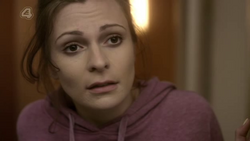 Amy Goodwin was a girl who kissed Rudy at Jo's party. On his search to find the girl he had sex with, leading to him getting a Genital Erosion, Rudy visits her with the intent of sleeping with her to remove his STD. However, he accidentally flashes at her kid sister, causing her to become upset. Rudy then tries to pay her for sex but just as he kneels down begging her to do it, her girlfriend Jenna arrives and leaves after Amy admits to kissing Rudy to stop him from claiming they had sex.
According to Rudy, her hair smelt like Ready Brek.
Community content is available under
CC-BY-SA
unless otherwise noted.