Berserker Rage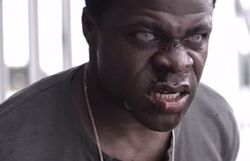 Effects
Lose all rational thought and gain enhanced strength
Berserker Rage is the power to lose all rational thought and gain enhanced strength.
Characters
Edit
Tony is the only one to have shown this ability. His power developed by his personality of getting angry easily and having a temper problem.
When affected by the rage, Tony's eyes turn a creamy colour. He starts having large anger spasms. Once in this zombie like state he attacks anyone he comes across. 
Similar Powers
Edit
Protective Rage - The ability to gone into a murderous rage in order to protect someone.