.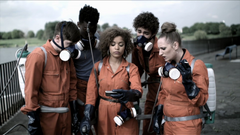 Community service is donated service or activity that is performed by someone or a group of people for the benefit of the public or its institutions, usually after committing a crime. In the show, the gang are all doing community service for their own personal reasons.
Community Service workers
[
]
A list of people who are doing/have done community service, including for reason they were sentenced, their probation workers and their sentence length.
Other 
[
]
Name
Reason for Sentence
Probation Worker(s)

Sentence

start

Sentence

end 

Gary

1.1 (died)

Ollie

2.4 (died)

Tanya

3.1 (died)

Charlie

3.1 (died)
Trivia
[
]
In Series 2.6 other probationers are seen in the background around the time Nathan harasses Brian.