Jo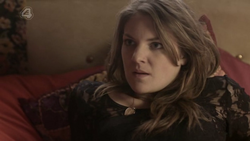 Jo was a medical student who was having a party at her house, which was attended by Rudy who contracted a super-powered STD after he broke his oath to fellow party goer Leah. Having forgotten who gave it to him, Rudy returns to Jo's house and assumes she was the pertetrator since her bed was where they had sex. Even though he discovered she didn't give him the STD, he finds an opportunity in the fact she was studying medicine and flashed his eroded genitals at her, hoping to get it checked. Jo, however, was so shocked at his sudden exposure and the state of his genitals so much she screamed.
Community content is available under
CC-BY-SA
unless otherwise noted.