Lucy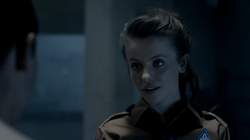 Lucy was a scout under the control of the scout leader's power, making her an Agent of Satan. Lucy seduces Finn after seeing him in the community centre, eventually taking him into the main hall and tying him up. All the other scouts and the scout leader enter the room, where the leader, Keith, attempts to convert Finn into an Agent of Satan too.
However, Finn manages to escape using his telekinesis, and Lucy is never seen again.
Community content is available under
CC-BY-SA
unless otherwise noted.