Pete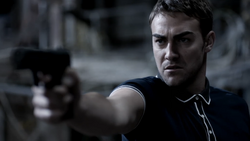 Pete was the next victim Lola moved on to after Curtis. Lola left Curtis and disappeared, during which time she started a relationship with Pete. Following a heated encounter between Lola and Curtis, during which he tried to convince her that 'Lola' was a fabricated persona created by the storm, Lola burnt her arm with an iron and convinced Pete that Curtis did it, making him vow to kill Curtis. Pete subsequently followed Curtis and, outside the community centre, knocked him unconscious and placed him in the boot of his car. He drove him to a disused industrial facility, and ordered him, at gunpoint, to leave the car. Whilst being held at gunpoint, Curtis tried to convince Pete of Lola's devious actions and her false identity, causing Pete to doubt her words. Pete's doubts resulted in a hidden Lola to shoot him dead from behind.
Community content is available under
CC-BY-SA
unless otherwise noted.