Precognitive Crafting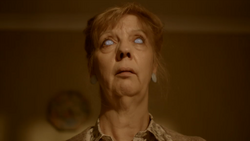 Effects
Craft visions of the future
Inverse power
Unseen, likely retrocognitive crafting
Precognitive Crafting is the power to reveal an image of the future through a particular kind of craft.
Characters
Edit
Examples
Edit
Maggie later knits a second jumper that shows three members of the gang laying seemingly dead in pools of their own blood.
She gives another jumper to Jess shower her carrying a child which Rudy believes to be his and Jess'.
Maggie claims to knit the past only when her arthritis is playing up.
Similar Powers
Edit
Foresight - The power to see the changeable imminent future of a course of events.
Future Illustration - The power to manipulate the outcomes of events using illustration.
Community content is available under
CC-BY-SA
unless otherwise noted.