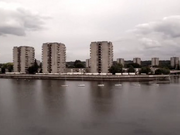 Wertham, often simply called The Estate, is a fictional borough of inner-city London, United Kingdom, and the setting for the events seen in Misfits.
The show was filmed around Thamesmead in South East London, which stands in for the fictional Wertham. Although Wertham is never stated to be within London in-show, it clearly based on a borough of London; for example, in the first appearance of Tim, the O2 Arena is clearly visible in the background.
Wertham seems to be a largely impoverished urban area full of council houses, graffiti-covered concrete walkways, overpasses, down-at-heel public buildings, and disused factories, but with a cleaner suburban area too. There are some wilderness areas also, although it is mostly urban. So far Wertham has been revealed to have several pubs and bars, at least two nightclubs, a Community Centre (which is surrounded by Wertham's lake and in which much of the action takes place), a bowling alley, a warehouse, a convent for nuns, a graveyard, a zoo (where the gorilla Bruno lived), and Wertham General Hospital (which features heavily in a large number of episodes throughout the whole run of the show). Wertham is blighted by gangs, such as the one run by Derren.
Wertham is the only location where The Storm is known to have hit and given people Powers.
Gallery
[
]
Trivia
[
]
It is possible that Wertham is named after Dr Fredric Wertham, whose 1954 publication The Seduction of the Innocent ultimately led to the creation of the Comics Code Authority, which stopped publishers from producing comics with violent, sexual, horrific or otherwise risqué content.